SYSTEM FOR MONITORING OF THE NATURAL AND
artificial RADIOACTIVITY in the aerosols AT BEO "MUSSALA"
The system  includes  an air turbine, a filter device, a press for preparing of the samples for measuring, H.P.Ge-spectrometer and a program for analysis of gamma spectra. All of them have been developed in the INRNE, and mounted at BEO "MUSSALA",  except  H.P.Ge detector, which is in the INRNE, Sofia.
The air turbine allows to pass through the filter 1500-1800m3 per hour, which is relatively big volume. The air is passing through the fibers filter, type  ÔÏÏ-15-1,5, with high effectiveness, 94-99%.
The size of the filter is 50x50cm, after sampling the filter is pressed to the pill with a diameter 57mm, and thickness ~ 15mm. 
<![if !vml]>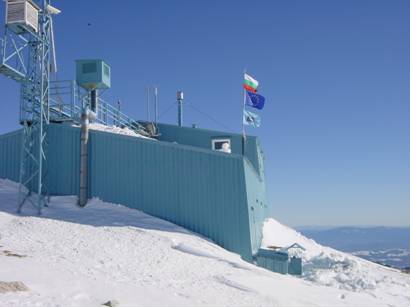 <![endif]>
Turbine, on the right corner of the building, and filter
 device on the roof of BEO MUSALA                                         
<![if !vml]>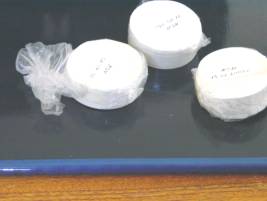 <![endif]>                                                                           
                                                                       The view of the used samples
                                                                                         after pressing,  for measurements                                     
                                                                                         of the radioactivity    at H.P.Ge
                                                                                         spectrometer
The volume passed through the filter is about ~ 15000m3 , the measurements start usually several days after sampling in the laboratory in INRNE-BAS.
MINIMAL DETECTABLE ACTIVITY FOR SOME ISOTOPES FISSION OR ACTIVATION PRODUCTS
isotope

energy

of gamma-

rays, KeV

min. detect.

concen-ration,

microBq/m3

der.air concentr.

DAC/20

ITU-EU

Bq/m3

NA

of

R. of B.

Bq/m3

factor

of

sensibility

R.B./min

Cs - 134

604,6

~  7

20.8

6.0

0.85x106

Cs - 137

661,6

~  4

10.7

3.2

0.80 x106

I -131

364.5

~  4

56.5

3.3

0.82 x106

I - 133

529.9

~  5

760

29

5.8 x106

Nb - 95

765.8

~  4

231

62

15 x106

Zr - 95

756.7

~  6

70

19

3.1 x106

Ru - 103

497.1

~  5

139

37

7 x106

Co - 60

1173,2

~ 3

13.5

4.0

1.3 x106

Na - 22

1274,54

~  3

320

72

24 x106
Factor of the sensibility is the ratio of mean activity per year for the public places for Republic of Bulgaria to the minimal detectable concentration gained with our system.
The same concentrations proposed by ITU are several times higher . 
On reality this one means how many times the minimal measured activity for any isotope is lower, then maximum  permissible on the public places.
The measurements started on December, 2006, for some time they had been stopped, because of very bad weather conditions.
The results for Be-7 are presented on the plot, the error is ~ 15%.
Artificial radioactivity has not been identified since then  , in the frame of above mentioned sensibility.
A new spectrometer with H.P.Ge-detector, cooling with "Stirling" mashine is in use now at BEO-MUSALA for emergency cases. With this spectrometer It is possible to make a precise analysis of gamma-spectra just after sampling at the   Mussala, 2971m.. with this spectrometer. Analysis of spectra is possible to make from the Institute in Sofia, through the internet.
We have possibility, if necessary, in the frame of less then several hours to take a sample, to start measurements and to make analysis.
An additional, there is a NaI spectrometer with 2l volume as a reserve for fast measurements.
For more information and questions :
ilpen@inrne.bas.bg
Dr.Ilia Penev,
INRNE-BAS,
boulv. Tzarigradsko shosse 72
Sofia-1784,
Bulgaria
<![if !vml]>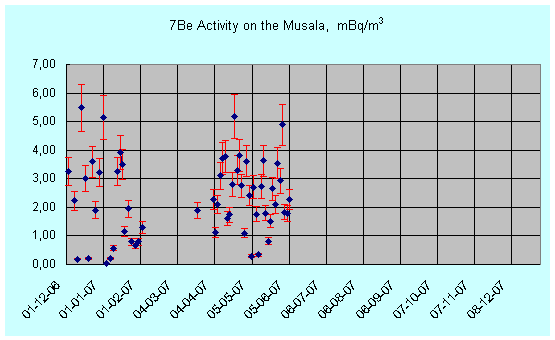 <![endif]>